F1 Esports Grand Final Preview
The time's come. After nine races, we reach the final event of the 2020 F1 Esports Pro Series, presented by Aramco. And we've saved the best for last! Three exciting races across some fan-favourite tracks. Four drivers mathematically in with a shout of winning the title. And two teams ready to lock horns for that illustrious prize pot. Let's get this show on the road, shall we?!
CHAMPIONSHIP BATTLES
We've got four drivers in with a shout of the championship. All four have won at least once this season, and have scored in pretty much every single race, too. Consistency really is key!
THE FAVOURITE: JARNO OPMEER (153 POINTS)
Flying Dutchman Jarno Opmeer stormed to two wins in the first event, setting himself as the de facto man to beat in 2020. He scored three victories across the first six races, making a streak of six podiums in a row in the process. His run was stopped in Event 3 however, where he was out-scored by his rivals. Nevertheless, another podium in the most recent race in Italy gives him great momentum as we look to the Grand Final.
THE CHALLENGER: FREDE RASMUSSEN (134 POINTS)
Rasmussen was the nearly-man of 2019, losing out to David Tonizza at the very last round of the championship. He was a huge driving force in helping his team secure the teams' championship however, and came oh-so close to taking the drivers' crown. With two wins and a pair of second-placed finishes, he's not a million miles behind the leader.
THE CHASER: MARCEL KIEFER (121 POINTS)
After a maiden win in 2019, Marcel Kiefer marked himself as a man on a mission to win, and with the backing of Red Bull Racing Esports in 2020, he's been able to make that a reality, taking a well-earned win in Austria as Red Bull flexed their muscles with some solid teamwork. Kiefer is slightly behind his team mate in the standings, but he's still in the fight.
THE OUTSIDER: NICOLAS LONGUET (88 POINTS)
Nicolas Longuet surprised everyone in his sole appearance in 2019; grabbing second place in Monza. He had to wait until a call up from Renault Vitality for a full-time role in 2020, but he's immersed himself in a team leader role and put solid points on the board for the French team. He's a rank outsider for the title, 64 points behind the leader. With 78 points to play for, it's still doable, but it's going to take some work. Nevertheless, his maiden win in 2020 has put him on the radar, and it's been a great campaign for him regardless.
LAST TIME OUT
Our third event of 2020 saw a slight changing of the guards, with the first race producing a very mixed-up podium. After five points finishes in the first six races, it was the aforementioned Longuet who took the win, and in dramatic fashion. A late-race battle between him, Rasmussen and McLaren Shadow's Dani Moreno produced truly edge-of-the-seat racing in the final few laps.
A penalty for Rasmussen though dropped him down the order, bumping Dani Bereznay up to third, behind Moreno, and winner Longuet. Points leader Opmeer posted a P9 finish, the first time he'd missed out on the podium in 2020.
The second race at Spa-Francorchamps in Belgium produced more magic, in the form of Red Bull's sublime teamwork once again at play. In contrast to Austria, it was Rasmussen leading the charge this time, with Kiefer in tow behind. Spa specialist Dani Bereznay was not prepared to let his status as master of the track go unchallenged however, and with a daring last-lap move, he snatched P2 from Kiefer at the Bus Stop chicane. P5 was the best Opmeer could muster, and so the points gap came down once more.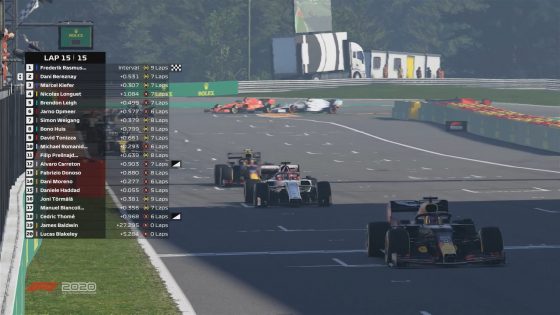 Bereznay split the Red Bulls on the final lap
And so Monza was the setting for the final race of Event 3, and the temple of speed showcased outgoing champion David Tonizza at the height of his power, with the Italian winning for Ferrari Driver Academy Hublot F1 Esports team at his home circuit. A digital dream-come-true for Tonzilla, and a welcome return to form for Opmeer, who ended up second. Brendon Leigh completed the podium, for the most decorated top three yet; this year's points leader flanked by both past champions.
Check out our Event 3 report in full here.
THE FINAL THREE
Three final hurrahs, and we've got a rich mix of history and modernity on the books.
Suzuka is up first, with another race around one of the most well-loved circuits in the sport. At 110.33km, it's set to be the longest race in F1 Esports so far. Last year's race was won by Rasmussen, with Lucas Blakeley making a surprise visit to the podium in only his second race, with DHL Fastest Lap winner Patrik Holzmann picking up third. Rasmussen will be looking to repeat his win again if he's to take a step closer to Opmeer's points total.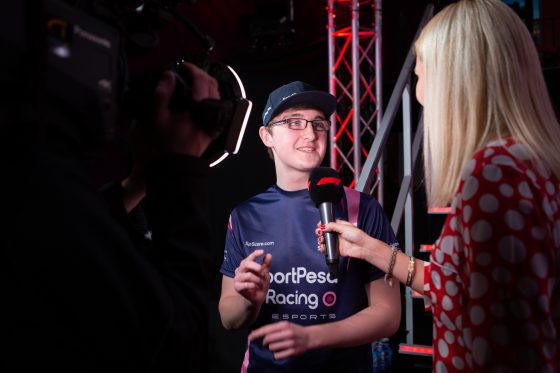 Lucas Blakeley scored his first podium in Suzuka in 2019
Mexico City concludes Wednesday's running, and it marks the first time the it has appeared on the F1 Esports calendar. Mastering this new venue will be key, with a mix of twisty sectors, a formidable 1.2km straight, and the Foro Sol baseball stadium. The penultimate race of the 2019 Pro Series saw Red Bull Racing Esports crowned champions, and they could be on course to repeat that feat, should they end the race with a gap of 44 points of more to Alfa Romeo Racing ORLEN F1 Esports team.
Our season finale is at Brazil's much-loved Interlagos circuit in Brazil, scene of David Tonizza's championship ascent in 2019. He had to fight with Bereznay for the win, and ended up dropping to second place, but this was more than enough to overhaul one-time leader Rasmussen, who picked up a solitary point right at the end. The most recent Esports winner here is Marcel Kiefer, who propelled himself to victory in the Pro Exhibition race in May.
STREAM TIME
We've got four streams on show over the two-day Grand Final event. Qualifying for Rounds 10-11 will be shown live on Twitch and YouTube from 15:30 GMT, with highlights of this session, plus both races in full, from 19:30 on Twitch, YouTube, Facebook, and on TV with our broadcast partners around the globe.
Thursday's action will pan out the same, with a summary of Wednesday's action leading the show. Then it's eyes down for the final in Brazil, followed by end-of-year awards to mark the season's most exciting moments. So, enjoy the last dance, and make sure you get involved on social media with the hashtag #F1Esports. Enjoy the show!
The post F1 Esports Grand Final Preview! appeared first on F1Esports News.
Read More
Gamble Now