George Russell Victorious In Virtual British Grand Prix
Briton races to fifth virtual win after battle with Alex Albon
Williams racer George Russell made the perfect comeback in the Virtual Grand Prix series on Sunday night, conquering the taking victory around his home race in Silverstone. His race-long fight with Alex Albon, also a Virtual race-winner, provided entertainment throughout, with both drivers working together to cut through the field.
By virtue of Brendon Leigh's first win for Ferrari Driver Academy in the Sprint Race, Callum Ilott headed the field from pole in the Feature Race, with Albon alongside in second. Russell meanwhile began the race in fifth place, separated from his fellow F1 racers by Thibaut Courtois in third, and Jimmy Broadbent in fourth.
Courtois put on the move of the evening in the early stages, surging past Alex Albon through the super-fact Maggots corner to momentarily take second place. However, the Belgium international goalkeeper could not keep the F1 racers behind for long, and on the following lap he was deposed by both Russell and Albon.
The pair worked in tandem to try and hunt down Ilott's now-considerable lead, with both opting to start on the medium tyres and switch to the softs late on. The pace advantage this afforded them was key, and the duo broke away before too long. Fuel management played a small part, with Russell running out of fuel with a handful of corners to go, allowing Albon to get the jump on him on the very last lap! However, due to time penalties, the positions remained unchanged, giving Russell his fifth virtual victory.
Behind Russell, Albon and Ilott, the Fittipaldi brothers continued their impressive run, with Pietro Fittipaldi in fourth, and last weekend's race winner, Enzo, in fifth. F2-racer-to-be Liam Lawson crossed the line sixth, followed by Nicholas Latifi, Robert Shwartzman, Ben Daly, and Luca Salvadori in tenth.
All teams will go home with a sizeable chunk of the charity prize pot, but the results put Haas in a commanding lead of the points, with 57. Next-closest are FDA Esports on 42, with Red Bull Racing on 39 just behind.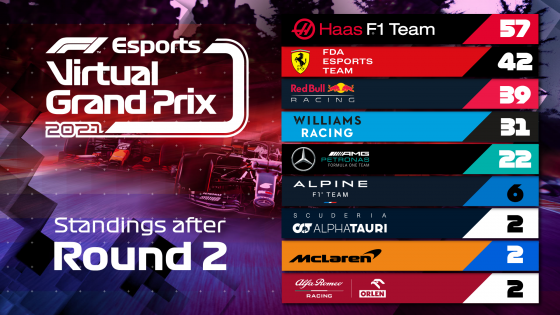 The final of our three Virtual Grands Prix will take place on Valentine's Day, Sunday February 14. As before, the action gets going from 18:00, across Twitch, YouTube, Facebook, and on TV channels globally too. It's a date!
The post George Russell Victorious in Virtual British Grand Prix! appeared first on F1Esports News.
Read More
Gamble Now